Fletcher: "I was there to push people beyond what's expected of them. I believe that's an absolute necessity."
I sit here listening to the end scene of Whiplash again, for the fifth time today, on a plane.  Not going out on the limb to say it was the best movie of the year, that would likely be Boyhood – a singular achievement in chronicling the best and worst of American life, but Whiplash is certainly one of the most impressive movies I have seen in quite a long time.  For me and many others, it is a very personal movie because Whiplash is not a horror movie about a driving madman, but a movie about excellence, achievement, and pain.  These three things cannot be separated.  It is a chronicle of the PhD and academic success.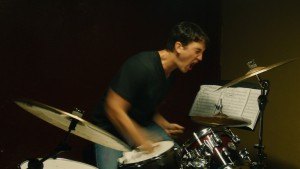 Light spoilers ahead
The axiom of 10,000 hours always did fit the PhD.  Not perfectly, some succeed spending less or more time at their craft.  Some don't even consider academia a craft, but are more of the "grip it and rip it" variety.  Sometimes I fit that mold, but the things I really do well represent hours and hours of pain and suffering.  Like Andrew the drummer (played by the brilliant Miles Teller), sometimes achievement comes with pain and sacrifice.  His hands bleed, his relationships suffered, he descended into madness.  Not to be dramatic, but many of us go through the same thing while completing a PhD.  My relationships suffered, my health suffered, the line between stability and madness during the process was very fine.
This is not to suggest that a PhD should be that tough, so competitive, so soul crushing, but the reality is that it often is and this might be for the best if it represents what only 1 percent of our society achieve.  There should be some level of achievement, some mastery that comes with completing a PhD.  It should not be an easy process, the goal is to completely grasp the materials that would make you an expert in the field, not just to teach that field, but also to produce scholarship that would lead that field.  This obviously is no easy achievement, and there must be sacrifice that comes from the process.
A key point in this process is the mentor.  You never really know what they have in their heart.  They drive you, they push you, they criticize you, but in the end they are being difficult because you have the ability and you are also a reflection on them.  Your success is theirs.  Your failure is also theirs.  The difficulties of being a mentor are not well understood.  Generally they have your best interests at heart, they want you to succeed.  While the JK Simmons character in Whiplash is a frightening representation of this process, it does not make it any less true.
Fletcher: I told you about how Charlie Parker became Charlie Parker, right?

Andrew: Jo Jones threw a cymbal at his head.

Fletcher: Exactly. Parker's a young kid, pretty good on the sax. Gets up to play at a cutting session, and he fucks it up. And Jones nearly decapitates him for it. And he's laughed off-stage. Cries himself to sleep that night, but the next morning, what does he do? He practices. And he practices and he practices with one goal in mind, never to be laughed at again. And a year later, he goes back to the Reno and he steps up on that stage, and plays the best motherfucking solo the world has ever heard. So imagine if Jones had just said: "Well, that's okay, Charlie. That was all right. Good job.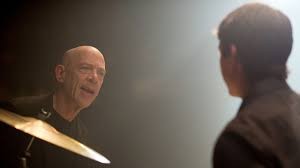 To me, Whiplash is really about that solo at the end.  It redeems all else.  All the pain and hurt than came before is wiped away by the achievement.  In many ways the end was a moment of defiance and rejection of the mentor, but JK Simmons stayed there that whole time.  He watched with pride and drove Andrew home even though part of him wanted Andrew to fail.  The goal is that achievement, that success.  That is what we have to strive for in our work, that success and achievement.  Art and social science matter.  They reflect our society and our hopes.  The PhD and research are not meant to be taken lightly, to be dismissed flippantly.  If you are doing so, you are not doing it right.  You are not achieving your best.  To do so, you must bleed, your must suffer, "now, was I rushing or was I dragging?"