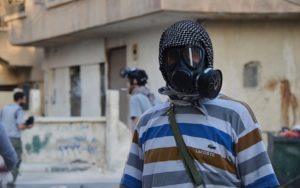 So here we are again. The Syrian regime has once again used chemical weapons against civilians, and the US is again faced with the decision of what to do about it. Same old, same old.
First, to give the current administration its due: complaints about the deal reached during the Obama administration to supposedly rid Syria of its chemical weapons are legit. That deal obviously didn't work, and I suspect that most of those involved in negotiating it at the time knew it wouldn't. Without verifiability and serious Russian backing, there was no way Syria would disarm. There was obviously no penalty for Assad to cheat, and so he cheated.
That said, whining about the past isn't a foreign policy. Trump owns this problem now, just as he owned it a year ago. Last year, faced with the same situation, he lambasted Obama's foreign policy and then proceeded to lob a few missiles at Syria. He declared victory and called it a day.
And here we are again.