Guest post by Sara Mitchell, University of Iowa
My daughter recently played in the regional high school team tennis competition, she played singles in addition to the number one player on her team (#1 at regionals). On the drive home, my daughter noted that the coach had spent one-on-one time with the #1 player all week. She asked, "why does our coach spend the most time on the player who needs the least amount of help?"  In answering those questions, a lot of things about my experiences as an academic were useful. I told her that while my career has been very successful, I have been defined most by experiences where I failed. Interviewing for multiple senior jobs in the past few years and netting zero job offers was personally painful, but it also pushed me to think more about what I want for my career and how I can be successful on the job market in the future.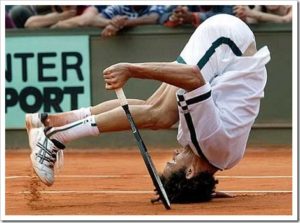 I also started thinking about how we can accept and assess our failures more publicly as academics. A professor from Princeton recently got a lot of attention when he posted a shadow CV, showing all of the papers that were rejected or the jobs or grants that he did not get. While this is an instructive exercise, my reaction when looking at the document was "Wow, this guy had a pretty easy time as an academic!" Like my daughter's perception of the number one player on her team, I looked at the credentials of a person at one of the best universities in the country, and realized that my path to success required (apparently) more hard work and failures.
I have constructed my own shadow CV for comparison and posted it on my webpage. I published five books, with only one being rejected at the stage of the delegates of the press. I was editor or co-editor for six special issues, with three rejections in that process. I published 37 journal articles and experienced 31 rejections for publications that were eventually accepted. Eleven papers were part of special issues and thus did not receive rejections at all. Twenty other rejections occurred on projects not yet published, while five papers were simply dropped without trying to put them through the review process. In terms of grants, I succeeded in getting funding for 10 external grants (8 as PI) with 7 rejections. Internal grant production (at my university) has been more successful with 22 successes and only three failures.
I created this document to make a few points. First, you will notice that I have a LOT of rejections. I have successfully published in the top book and journal outlets in our field and I have received grants from multiple government agencies, but I also failed many, many times in the publication and grant process. My first day back from parental leave in my fourth year on the tenure track, for example, I received a rejection from JOP on an R&R. While that was devastating, my coauthor and I submitted the piece to AJPS and we were successful in getting the piece published. Like my daughter's experience with tennis, I learned that trying and failing makes you more resilient the next time you try. Looking at my shadow CV, you will notice many attempts on my part to publish in the best journals in the field and while most of those tries ended in rejection, I was successful in some cases.
Second, you might notice that I still get rejected all the time! Most of the papers in the list of 20 that have been reviewed at least once but not published yet are ongoing projects. Being a senior scholar makes some aspects of the publication process easier (e.g. more book publishers seek out my work), but we still have to handle rejections regularly. As my career progressed, though, I took advantage of publishing in special issues more frequently which reduced the absolute number of rejections on papers. I have found the senior job market to be more difficult than the junior job market. Yet I also receive many benefits at this stage of my career such as invitations to small conferences or to give talks, invitations to teach at universities around the world, and invitations to work on larger, interdisciplinary research projects. In short, my "seeding" has increased over the course of my career, but I have had to take my lumps too to get there.[1]
Third, some of the things that have most defined me as an academic are not very visible on my CV. The Journeys in World Politics workshops that Kelly Kadera and I have hosted for the past decade, for example, fundamentally changed me as a person and a scholar. I became passionate about increasing gender diversity in my field. I started publishing papers on gender issues in the academia, even though I receive few "tangible" benefits from doing so. Sometimes the more service oriented work that we do for our universities and our professions is far more important than the number of books or articles that we amass on our resumes. One might notice that I have a lot of coauthors on my CV, which could diminish in some ways my individual impact on the field. Yet I look at how many students and colleagues I have coauthored projects with and cherished the fun times we have had in building something positive together.
Brandon Valeriano's recent piece on tenure rejections is quite insightful, noting that academia will always be plagued by subjective standards. In defining success in our field, we need to have a dialogue about our failures too. I did not begin as a #1 player. I went to two state schools and worked my way up through the ranks. I think the most important lesson I learned though, and one I hope to pass along to my daughter, is that we have to keep trying in the face of our failures.
[1] As Laura Sjoberg notes in a recent blog post, it is useful to embrace our failures and move beyond our fear of them. "I'm not afraid to apply for a job I won't get, or submit an article that will get rejected or a grant that will not be funded."