Many if not most of us live some portion of both our professional and social lives on Facebook. Among my friends and colleagues, a significant amount of attention is paid to how to ensure privacy on Facebook, but less attention is paid to self-expression and self-description options. That's certainly true of me. That's why my latest discovery has me thinking.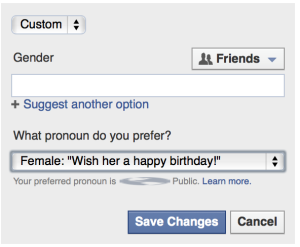 Facebook has a bunch of gender options, apparently rolled out in early 2014. Its been a while since I've updated my profile, so I didn't notice until now. My first reaction is to be like a kid in a candy shop – which one do I pick? Can I have them all? I'd previously decided not to display a "gender" on Facebook because the options were limited to male and female. Granted, this list still blurs the sex/gender dichotomy and doesn't make the pronoun "ze" available, and while I can 'be' a number of genders, I can still only be 'interested in' male or female (or both). Still, upon my initial encounter with this list, I was too elated with all the options to be particularly concerned about those remaining shortcomings.
I could identify as (and this is in alphabetical order now): agender, androgyne, androgynous, bigender, cis, cisgender, cis female, cis male, cis man, cis woman, cisgender female, cisgender male, cisgender man, cisgender woman, female to male, FTM, gender fluid, gender nonconforming, gender questioning, gender variant, genderqueer, intersex, male to female, MTF, neither, neutrios, non-binary, other, pangender, trans, trans*, trans female, trans* female, trans male, trans* male, trans man, trans* man, trans person, trans* person, trans woman, trans* woman, transfeminine, transgender, transgender female, transgender male, transgender man, transgender person, transgender woman, transmasculine, transsexual, transsexual female, transsexual male, transsexual man, transsexual person, transsexual woman, and/or two-spirit. If any are missing, I can suggest a new one. And I don't have to pick just one. I can pick up to ten! I don't go wild – I only pick four, then I almost hit the logout button.
Then it occurred to me – does this translate? Is it available everywhere in the world? Is it available in all of the languages that Facebook is available in? Are translations based on English words, or local ones? These questions lead me to other questions – what privileges are a condition of possibility for my joy and excitement at the discovery of the 'new' Facebook genders? Who does facebook's new genderqueer face benefit?